As part of the European Week of Philanthropy and Foundations held from October 1st to 10th 2021, the Zajednički put Foundation and SOLIDARNA – Foundation for Human Rights and Solidarity, as members of the Croatian Forum of Foundations ZaDobroBIT!, in co-organization with the European Foundation for Philanthropy and Social Development and cooperation with the National Foundation for Civil Society Development held a public conference entitled "Horizontal cooperation and civic solidarity as levers of social policy of the City of Zagreb."
With the aim of strengthening the dialogue between all stakeholders in the active, partially formalized network of social protection and solidarity of the City of Zagreb, in an interactive discussion participated Mirela Stanić Popović, president of Krijesnica, Karolina Rugle, member of Are You Syrious ?, Fr. Vlado Vidović, head of the St. Spirit's public kitchen, Gordan Vrankovečki, Sustainability Manager of IKEA Croatia and Mirta Pađen Lee, Human Resources Manager of IKEA Croatia and Member of the City Assembly Daniela Širinić, moderated by Marina Škrabalo, Manager of the SOLIDARNA Foundation and Ines Vrban, Manager of the Zajednički put Foundation.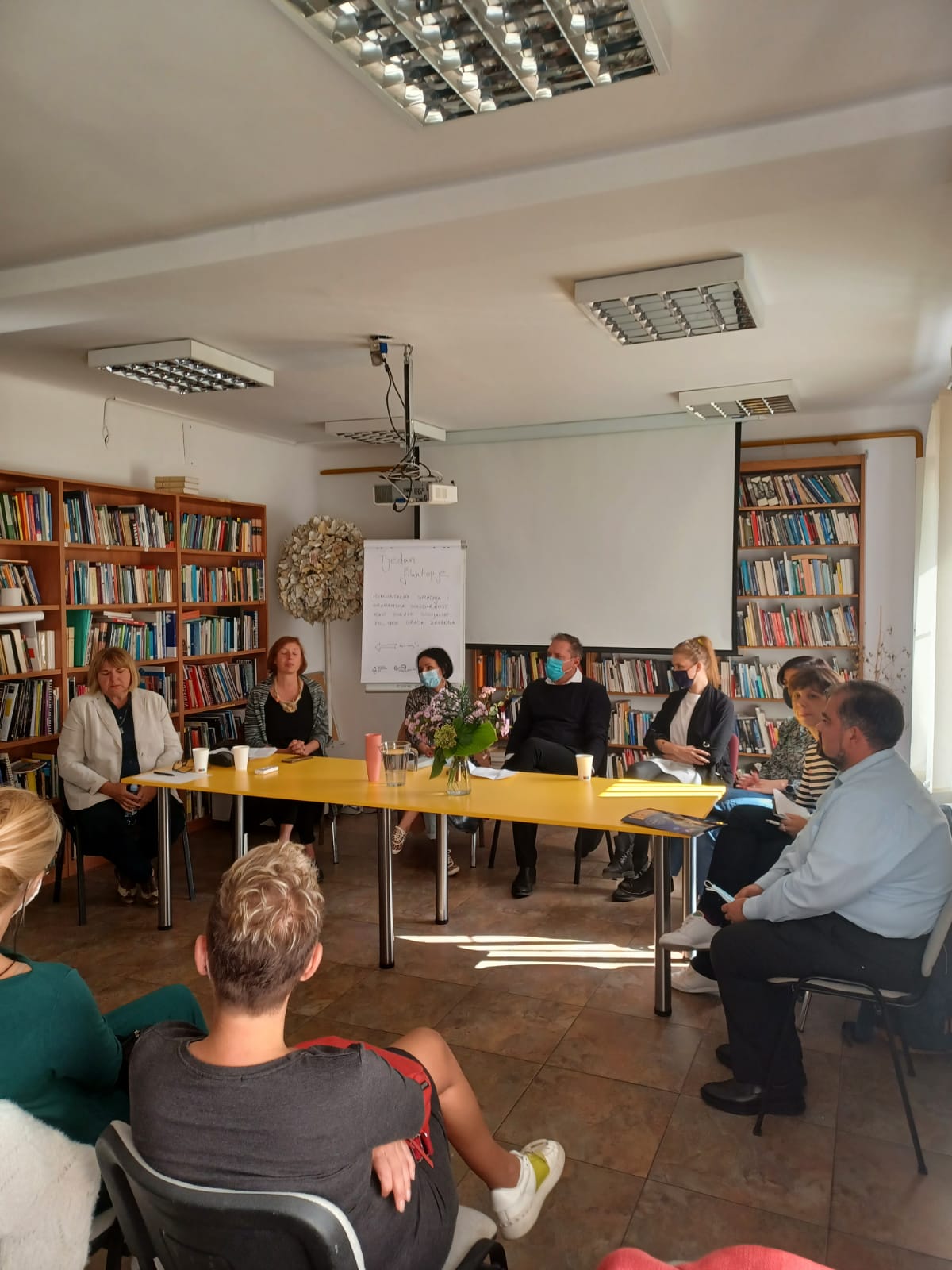 In their introductory address, the moderators pointed out that the discussion aims to encourage all stakeholders in the city's social policy to actively consider community safety in the light of experiences and efforts during the crisis caused by the pandemic and earthquakes. "During the pandemic and after the earthquake, we realized that dialogue is important to us, to see where we were, where we are today and what we can expect because without each other we will not be able to create a better future," said Ines Vrban. while Marina Škrabalo pointed out that everyone together, from the private sector, through non-governmental organizations and civic initiatives, to public services form a network of solidarity: "We can use our experiences of crisis as knowledge for future better and more prepared governance."
In times of crisis, the emphasis is on the economy and that is why Gordan Vrankovečki, IKEA's Sustainability Manager, opened a cross-sectoral dialogue, emphasizing that IKEA as an employer creates space for its employees to organize as private citizens: "We really live our values. the first day after the earthquake, our employees were on the ground and the company, before the official channels were established, according to their information, responded to the needs of the injured fellow citizens. In the second round, we cooperated with organizations in the field such as SOLIDARNA, the Croatian Red Cross and the Little Dragon Association. Although almost a year has passed since the earthquake in Banja, and even more since the earthquake in Zagreb, IKEA is still arranging the homes of the people who died in the earthquake. But we are not just reacting in a crisis. In addition, we supported over 40 organizations, equipped kindergartens, and with the SOLIDARNA Foundation we implemented a crisis support project for vulnerable groups A Place Like Home. "
Mirela Stanić Popović, president of the Krijesnica Association established to help children and parents struggling with malignant diseases, stressed that the organization's programs are based on cooperation of all stakeholders in the community – from public authorities, private sector and citizens, and through networking with other supporters: "What we learned during the pandemic, when restrictive decisions were made overnight, is that there is no such thing as NO. We sought a solution to each such response and implemented it in cooperation with other stakeholders. Also, although we gathered here are aware that philanthropy has always been important, this crisis has made it aware of the wider society, which is extremely positive."
Karolina Rugle, a member of the Are You Syrious? Association spoke about the importance of horizontal action and public advocacy: "Through my work in Are You Syrious? I got acquainted with the health care system, social services, education… Because everything is connected. Man is a whole and that is why it is very important not to fragment the fields of support and action. It is also important to choose battles. If we choose 3 goals and really achieve them, instead of planning 33, we will have a better future."
Fra Vlado Vidović, head of the St. Spirit Public Kitchen that works as openly as possible and provides 400 hot meals a day for all people in need said: "Every person who comes to the soup kitchen will receive a hot meal. The question is – is this person really in need? When I first came to Zagreb, I lined up with people and listened. Whoever is not in need will not wait in that line, that is what I have learned. During the pandemic, the number of people in need increased and people were restricted in their movements. At that time, we very successfully, in cooperation with the City of Zagreb and the central point, the institution Dobri dom, organized the distribution of meals at 7 points, so that no one would be left behind. Without cooperation this would not have been possible. Although we act differently, we are all connected by love, love that hopes."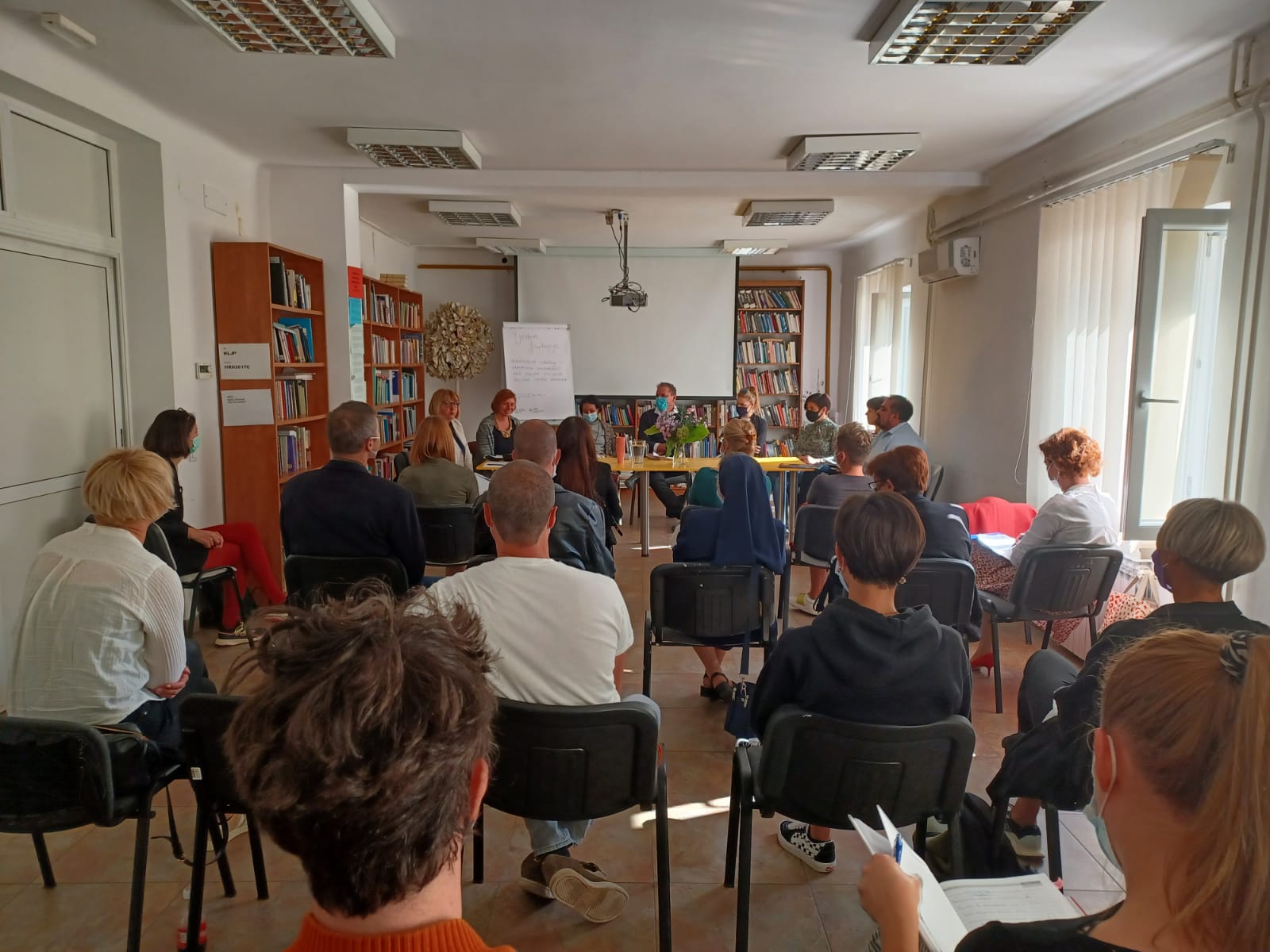 During the pandemic and earthquake, an unprecedented crisis that affected not only Zagreb but the entire country, which found the public authorities largely unprepared and burdened with bureaucracy, NGOs and the business sector and their cooperation gave the greatest contribution to society and community survival. Unfortunately, too much time and energy has been spent looking for suitable collaborators and partners to do together what they cannot do individually, the speakers agreed. As a key step towards a safer and more prepared future, they pointed out the creation of a single communication platform so that representatives of different sectors can network faster and easier, exchange information and adequately respond to the next crisis. A representative in the City Assembly and a member of the Platform MOŽEMO! Daniela Širinić agreed that this is the logical next step that the city government should take.
"We live in a period of climate disturbances, but also of numerous political and social problems. The question is not whether a new crisis will happen, but when. We must be ready, "said Marina Škrabalo, and Ines Vrban concluded: "We know what civic solidarity can do, but what can politics do? Now we need someone from above who will provide the network us and save us energy."