Women's organizations and initiatives are organizing the public action "Women's safety is the responsibility of the state" on August 21, 2023 in 13 cities in Croatia.
With this action, the women sendoff the brutally murdered Nizama Hećimović. Her murder once again showed the dysfunction of the system for protecting women from violence. We express our solidarity with women in Bosnia and Herzegovina who, at the same time as we are looking for greater effectiveness in protection against violence.
Violence against women is not an elemental calamity. It is the most predictable crime precisely because of the long duration of violence by a close perpetrator and the scheduling of the protection system that precedes the murder.
The problem of violence against women is a universal problem. The reason for the escalation in the number of murders of women is the lack of a strategic approach to this topic and the absence of effective and systematic violence prevention measures.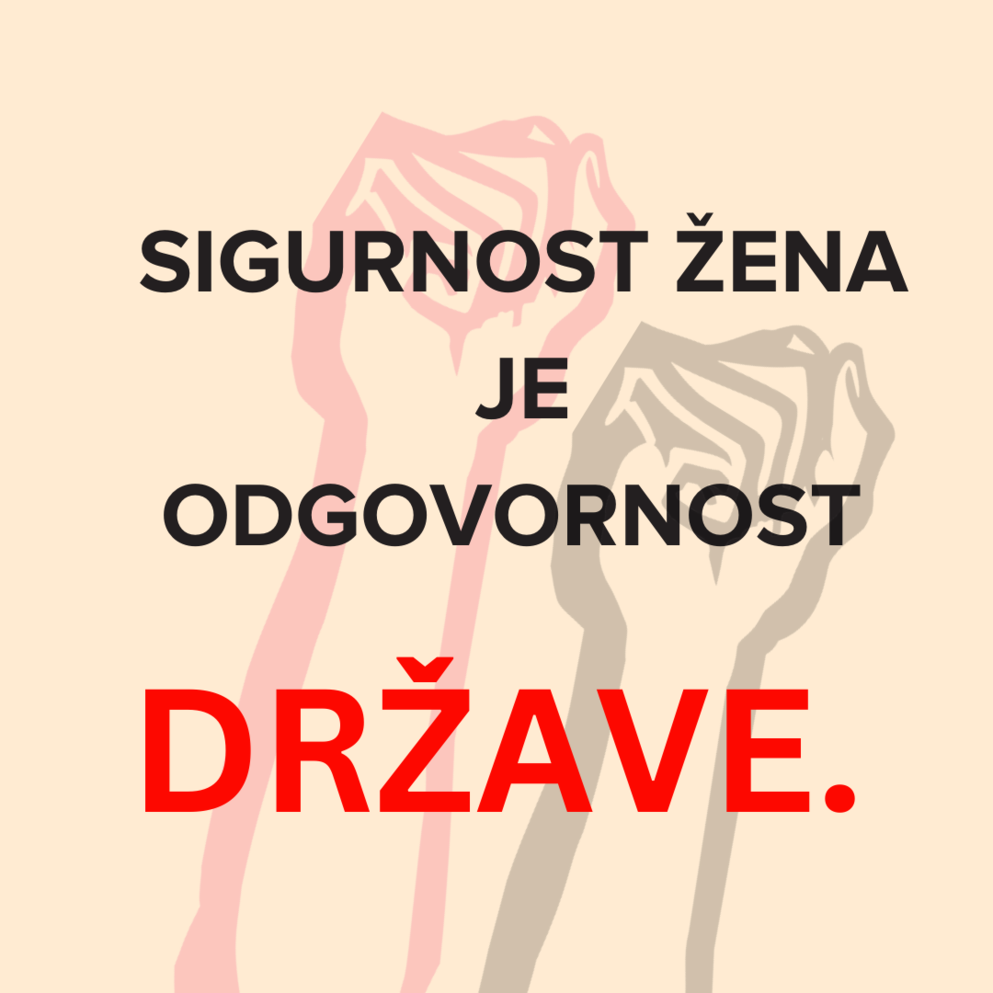 October 1 this year will be the 5th year since the entry into force of the Istanbul Convention, and the state has not done anything to ensure its consistent application.
The Law on Protection from Domestic Violence, apart from not covering all forms of gender-based violence, caused women terrible harm by treating violence against women as a misdemeanor, equating it to riding without a ticket on a tram.
Through symbolic public actions, women are asking the Croatian state to take responsibility and take concrete steps to protect women from violence. There are successful models of combating femicide!
We are looking for:
that the Government urgently establish a working group that will work on adopting legal solutions to regulate femicide;

defining femicide as a separate criminal offense in the Criminal Code;

passing a law that will regulate all forms of violence against women and place the sanctioning of violence against women exclusively in the criminal sphere;

adoption of the National Strategy, which includes all forms of violence against women, in accordance with the Istanbul Convention and with the funds provided for implementation in the state budget;
Places and times of the event: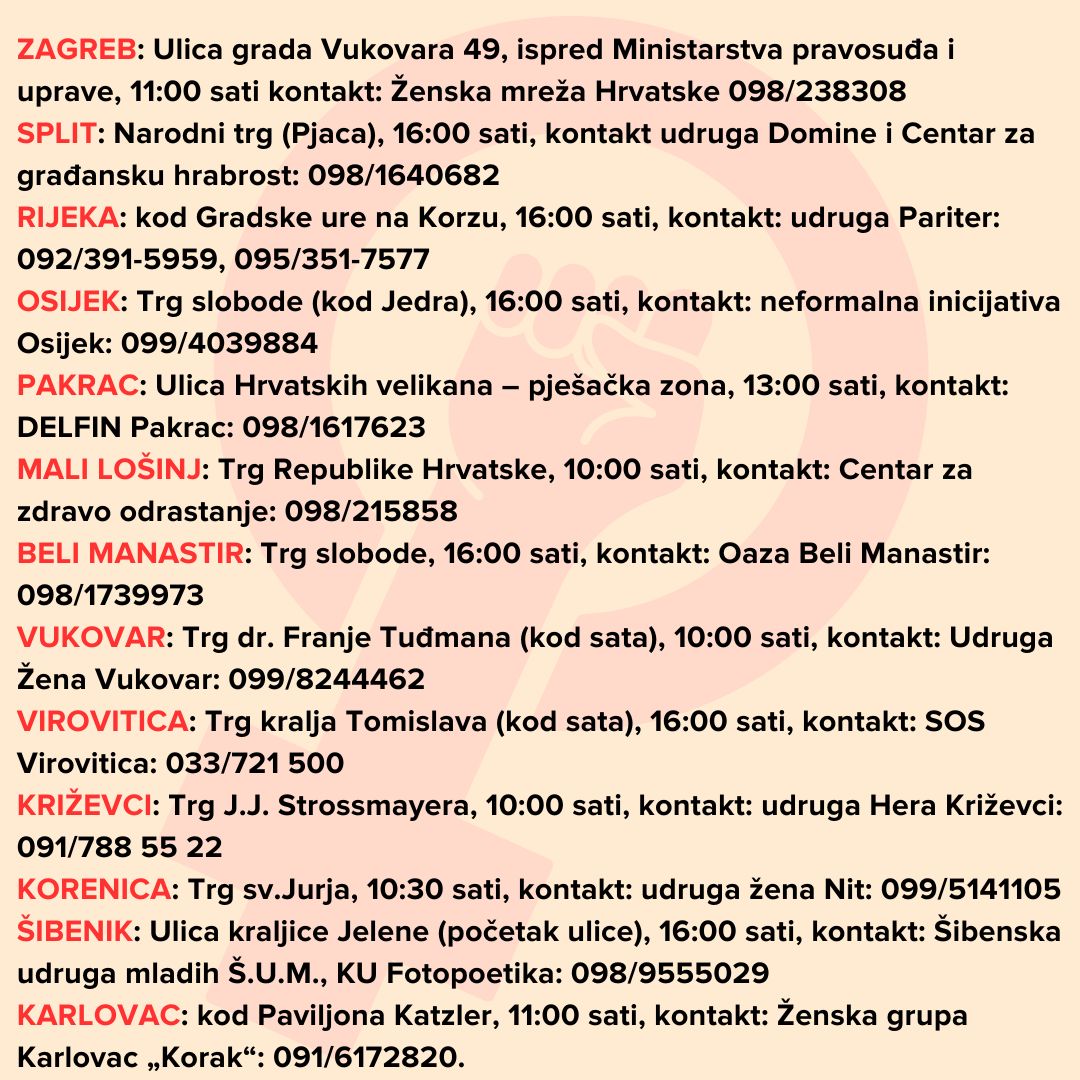 In addition to actions that organizations throughout Croatia organize at different times, we invite all women to stop for 15 minutes on Monday, August 21, 2023 at 4 p.m. wherever they are, and thus resist the normalization of violence. #STOP!
The action is organized by:
Ženska mreža Hrvatske:
Autonomna ženska kuća Zagreb
Centar za ženske studije
Centar za građansku hrabrost – HRABRE SESTRE
Centar za građanske inicijative Poreč
Centar za žene žrtve rata ROSA
Centar za podršku i razvoj civilnog društva "DELFIN"
Centar za društveno-humanistička istraživanja Zadar
Centar za zdravo odrastanje IDEM i ja Mali Lošinj
DEŠA – Dubrovnik
Domine – organizacija za promicanje ženskih prava
Koordinacija ženskih grupa SEKA
Lezbijska grupa Kontra
Mirovna grupa OAZA
Projekt građanske demokratske inicijative Beli Manastir  – P.G.D.I.
SOS Rijeka – centar za nenasilje i ljudska prava
SOS Virovitica
TARA Ličko Petrovo selo
Udruga Brod
Udruga "HERA" Križevci – za zaštitu i promicanje ljudskih prava
Udruga žena Dalj
Udruga žena Nit, Korenica
Udruga žena Romkinja u Hrvatskoj "Bolja budućnost"
Ženska grupa Donji Lapac
Ženska grupa Split
Ženska pomoć sada – SOS telefon za žene i djecu žrtve nasilja
Ženska udruga Izvor Tenja
Ženska sekcija SSSH
Udruga žena Vukovar
Zaklada Solidarna
#spasime
U dobroj vjeri
Sigurna mjesta
Ženska soba
CESI – Centar za edukaciju, savjetovanje i istraživanje
Pariter
Ženska grupa Karlovac "Korak"
RODA – roditelji u akciji
Šibenska udruga mladih Š.U.M. i KU Fotopoetika