Written by: Anja Zulic
Published: April 16th, 2021
A few hours after the devastating earthquake that hit Petrinja and many areas of Sisak-Moslavina County on December 29, 2020, the SOLIDARNA Foundation reactivated the thematic Fund 5.5 for crisis support after the earthquake and launched an urgent donor action "Solidarity with Petrinja and SMŽ".
Thanks to the trust of private and corporate donors, in the period from 29.12.2020. to 19. 3.2021. we managed to raise a total of HRK 13.691.296,33 through 15,208 donations. In peacetime, fundraising could take three to nine months, while this time, due to the crisis, everything went fast. We are proud and grateful that our joint effort has contributed to the accumulation of such a significant amount and enabled us to respond to the needs of the people.
In a very short period, we managed to create various donation channels to Fund 5.5, and over three months, the citizens of the company paid donations through Erste Card Club, Kekspay, Netbanking, and PayPal.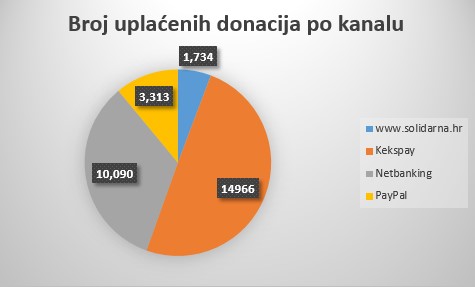 Most money was paid through Netbanking, 65%. The average citizen donation was HRK 431, while the average corporate donation was HRK 8,984. Donations were paid in various currencies such as the Australian dollar, Canadian dollar, Swiss franc, Czech koruna, Danish krone, euro and of course the Croatian kuna, in which most donations were paid.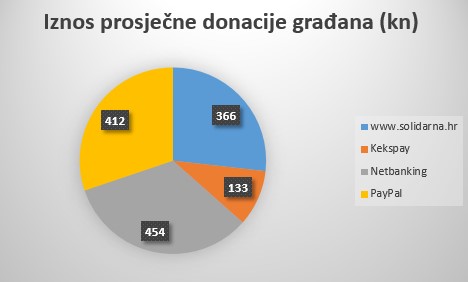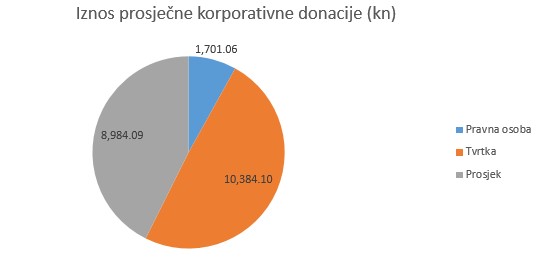 Payments came equally from Croatia and abroad. Payments of citizens from abroad averaged HRK 623, and Croatian citizens paid an average of HRK 380 . Foreign corporations paid a total of HRK 40,186.00, and the average donation was HRK 8,984.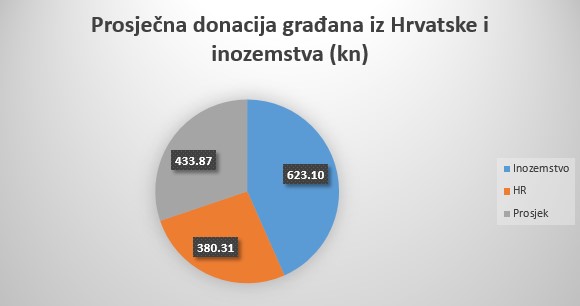 The extent to which we are all united in our desire to help is also shown by the number of countries from which donations came. Thus, most foreign citizens are donors from Germany, the USA, the Czech Republic, Belgium and the United Kingdom.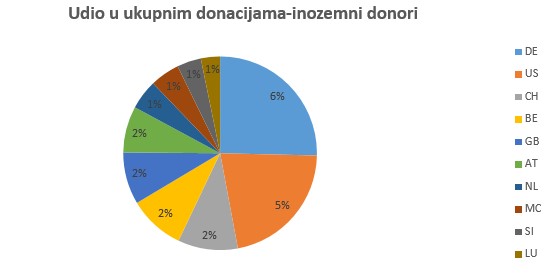 Donations arrived daily
From December 29 to March 19, donations arrived continuously, for which we are extremely grateful because the needs of the victims do not abate. The largest amount was paid by the citizens the day after the devastating earthquake that hit Sisak-Moslavina County, on December 30, when 4,801 individual donations were paid in the total amount of 1,695,973 kunas.
There were 583 corporate donations in the total amount of HRK 5,237,723.66, of which legal entities (94) paid HRK 159,900.00 and companies (489) donated HRK 5,077,823.66. The average amount of corporate donations was HRK 8,984. The average donation of legal entities was around HRK 1,701, while the average donation to companies amounted to HRK 10,384.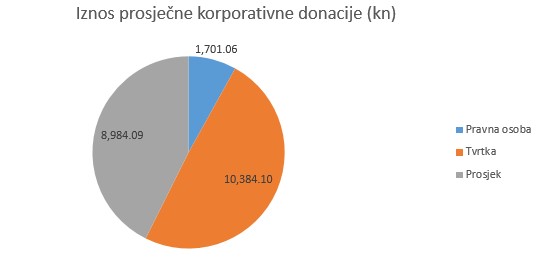 Donations from abroad are larger than those in Croatia, but more corporate donations came from Croatia, 96% of them.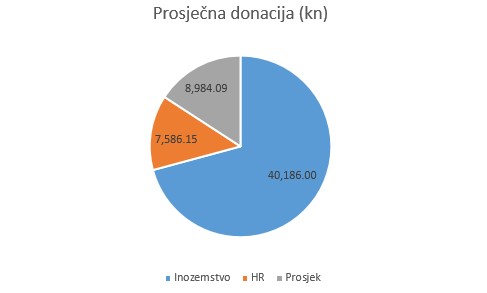 Most corporate foreign donations came from Switzerland (10% share in total donations), followed by the USA (3% share in total donations) and Romania (3% share in total donations).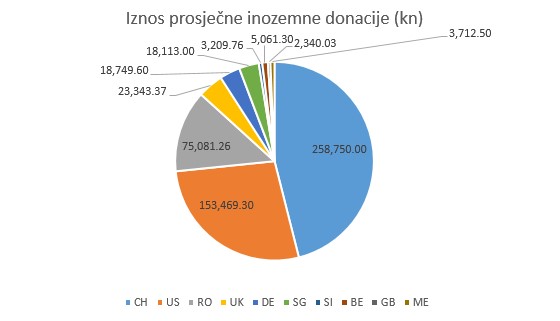 We were very pleased that the citizens of all 20 counties, together with the City of Zagreb, participated in the donation campaign. Thus, the citizens of the City of Zagreb donated 2,025,776.59 kunas, 551,878.12 kunas from the Istria County, 211,266.30 kunas from the Split-Dalmatia County, 174,560.00 kunas from the Zagreb County and 158,500.00 kunas from the Koprivnica-Križevci County.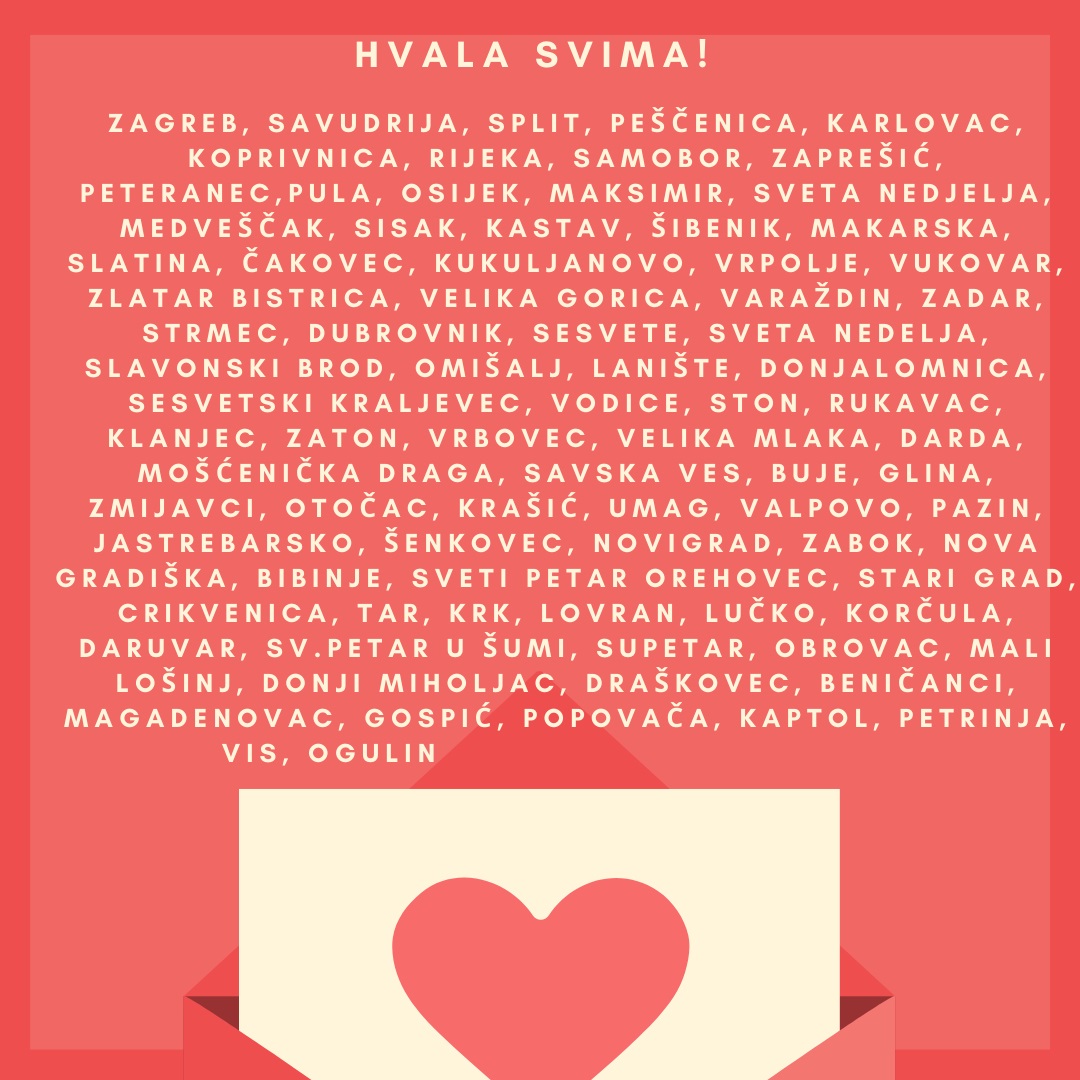 Citizens of as many as 84 Croatian cities and several settlements took part in the donation campaign, and together they enabled us to collect 4,233,073.66 kunas. It was donated from Savudrija to Ilok.
Who are our supporters?
In the past three months, ending on March 19, 2021. Everyone, small and large, joined the urgent donor action "Solidarity with Petrinja and SMŽ" and showed once again how much strength we have when we act united in a common goal.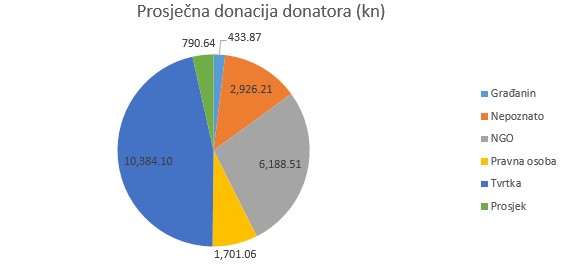 By type of activity, different types of legal entities have placed their trust in the SOLIDARNA Foundation; from companies, family farms, public institutions such as libraries and institutes, law firms, dance studios, pharmacies, restaurants, publishing houses, private individuals among whom artists predominate. Many have donated "instead of money" what they know best. Concerts were organized, and the funds raised from ticket sales were paid into Fund 5.5. Others redirected to the Fund the profits they would make by selling their artwork, thus contributing to the expansion of our philanthropic community.
The SOLIDARNA Foundation is grateful for every donation in this crisis period, in which cost reduction is a global trend, and we especially want to point out corporations that have decided that when it comes to solidarity and helping our fellow citizens in crisis, tightening the belt is not an option.
Many thanks to Skiper Hotels Ltd., JTI Foundation, 24 Hours Ltd., AbbVie Ltd., Johnson & Johnson SE Ltd., Siemens Healthcare Ltd., Global Giving Foundation, Heineken Croatia Ltd., Forever Friends Foundation, Unilever South Central Europe, Sedra Rail Ltd., L "Oreal Adria doo donated more than HRK 100,000 to Fund 5.5 and expressed solidarity with Petrinja and Sisak-Moslavina County.
When it comes to micro and macro companies, mostly small companies with a number of employees from 1 to 10 donated, of which 42% came from donations, while macro companies with over 250 employees donated 1%. Most donors donated non-earmarked, while some donors made earmarked donations for some components.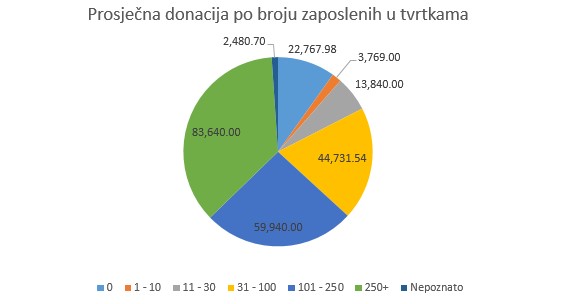 Ivan Blažević, Head of Fund 5.5 and Secretary of the SOLIDARNA Foundation, points out that everyone was involved in the urgent donation action: from individuals, small entrepreneurs to large corporations, and that many companies decided to donate through the SOLIDARNA Foundation, not only for her visibility and transparency in the media and on social networks but also because of the recommendations of companies that previously cooperated with SOLIDARNA and had a good experience.
Throughout the fundraising process, Ivan is satisfied with the speed of response and successful communication and collaboration, both with small donors and with large corporations. The whole process with large companies, which normally takes three to nine months, now took two or three weeks to a maximum of two months.
"The companies were open to our ideas and what we see in the field. They understood that in addition to emergency care, we are also working on long-term reconstruction and have shown flexibility. We were also contacted by Croatian companies that not only donated but also invested energy to ask their foreign suppliers to donate something to help people in the affected areas, "said Ivan about the cooperation with companies during the past months of the donation campaign.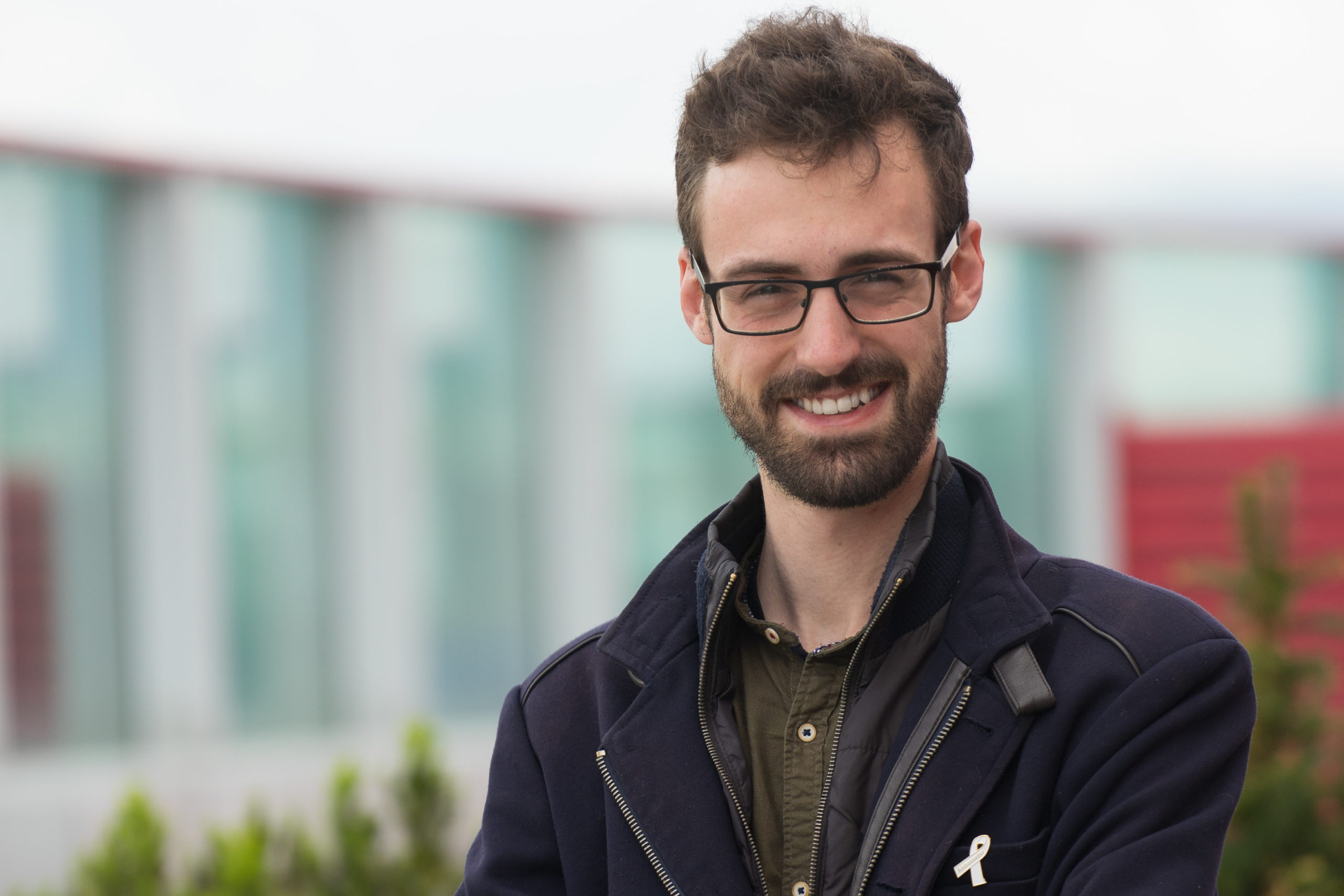 The driving force was also taken over by people who organized various fundraising campaigns on their initiative and donated the collected money to Fund 5.5.
"Artists sold their prints and donated all the money raised to the Fund. Online concerts were also organized in Chicago and London, where donations for the concert were donated to Fund 5.5. At one concert were artists from nine different countries. One elementary school student organized a birthday party and asked the children to donate to the Fund instead of a birthday present. There were about 40 fundraising initiatives that contacted the SOLIDARNA Foundation with the desire to donate because they have confidence that the money will go where it is needed ", explains Ivan, and all these initiatives give a human story that is an integral part of the SOLIDARNA Foundation.
Anja Herceg, one of five young women from Zagreb with a Dutch address gathered in the Zagreb Earthquake Relief initiative, which in cooperation with the SOLIDARNA Foundation founded Fund 5.5 after the earthquake hit Zagreb on March 23, is satisfied with the reactivation of the fund and the outcome of the urgent donor campaign "Solidarity with Petrinja and SMŽ ".
"Seeing such a large number of private and corporate donors in the Fund 5.5 is an indication that our work as crisis support after the earthquake is very much monitored and appreciated. From the very beginning and establishment of the Fund, we tried to put ourselves in the position of donors and think when and why I wanted to donate to our Fund, which is why we focus on transparency, communication, and accessibility for any issues, so we have gained a lot of trusts, as the numbers show, and over 10,000 private donations have arrived at the Fund, were sometimes found a donation of only a few kunas that says how much people wanted to help, even with the minimum amount they can set aside. On the other hand, we have over 500 corporate donors. It is nice to see that companies are socially and socially aware and set an example for the whole society ", points out Anja Herceg from Zagreb Earthquake Relief and Fund 5.5.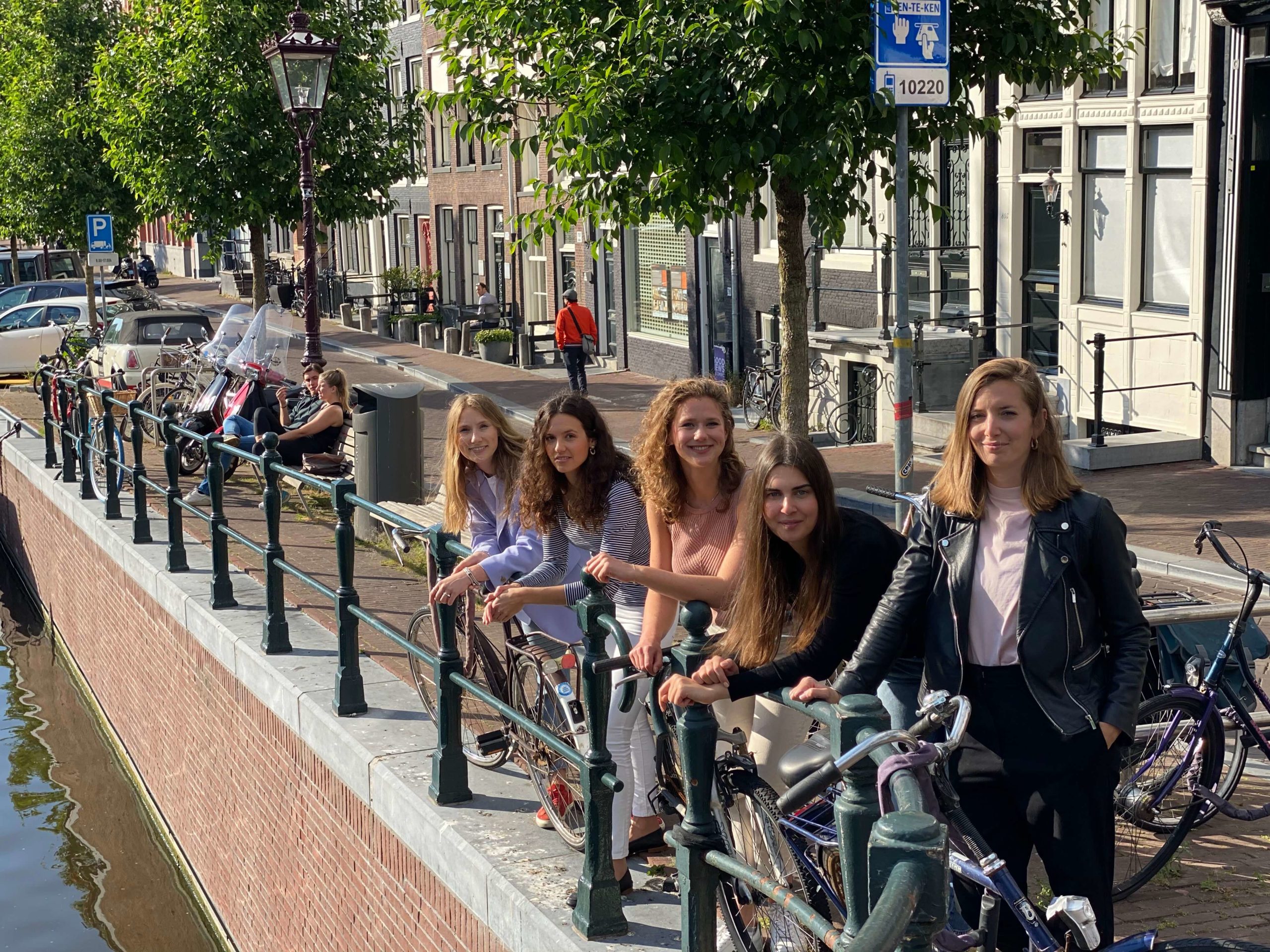 What we have achieved so far and what we plan to do next
To cover the direct costs of crisis management, Fund 5.5 has so far placed HRK 3,989,480.55, while HRK 2 million has been reserved for additional financial support for the 500 most socially vulnerable households, which will be paid in the next quarter. We are grateful and proud that we were able to respond to the urgent housing needs of 51 suffering households from all parts of the county. Nothing that the Fund 5.5. the action taken so far for the victims would have been neither conceivable nor achievable without the trust and tireless commitment of humanitarian workers on the ground who have neglected their own needs these months and devoted themselves entirely to volunteer work. The SOLIDARNA Foundation is especially proud to have been able to help them at least a little by covering operating costs. You can read more about the entire donation action three months after the earthquake and further plans of the SOLIDARNA Foundation here.
Without the solidarity of citizens across Croatia and the world, the implementation of our humanitarian program "Solidarity with Petrinja and SMŽ" would not be possible, and we thank for the trust and generosity of all our donors, more than 25,000 private and 600 corporate.
#Solidarity is #NewNormal!