Sisak Moslavina County is often called "Krdžanija". That shouldn't really be a derogatory name, as my colleague Tamara from the Petrinja association IKS explained to me during one of the visits. Krdžanija refers to a very poor area, wilderness, hills; a place where it is very difficult to live.
Until a few months ago, most of us lived in a blissful bubble of ignorance about everyday life hardships of our fellow citizens, only an hour's drive away from Zagreb. The earthquake changed that. It brought to the surface all the torment of the people from whom the state had been turning its head away for decades. They would remember them during the election time, throw them an empty promise or two, that they would forget a second later, and return to their comfortable leather armchairs and overpriced lunches. The people of Sisak Moslavina County would return to the land and their cattle, housed in dilapidated barns and makeshift chicken coops. Domestic animals are truly their only treasure, their daily bread.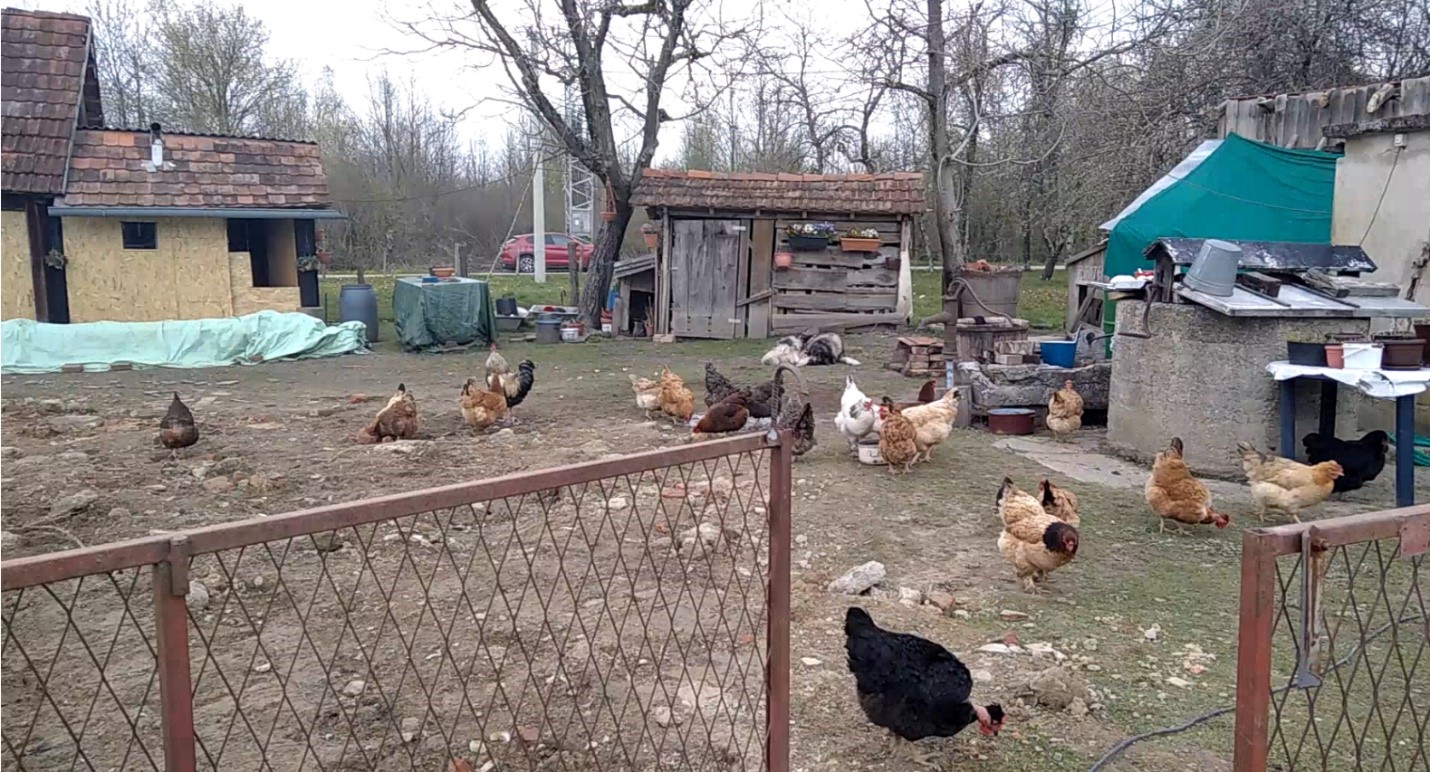 The earthquakes that hit Sisak Moslavina County in late December destroyed not only people's homes, but entire farms. The delivery of a housing container, a mobile home, and even the renovation of a home means security for our unfortunate fellow citizens, but a roof over their head is not the only thing they need. For their long-term and sustainable survival and stay in Banija, it is necessary to take care of their cattle. That is why the SOLIDARNA Foundation, with its field associates, the Zamah Foundation and the Dobro Dobrim Association, launched the Solidarity Stables for Sisak Moslavina Country project, supported by the Fund 5.5.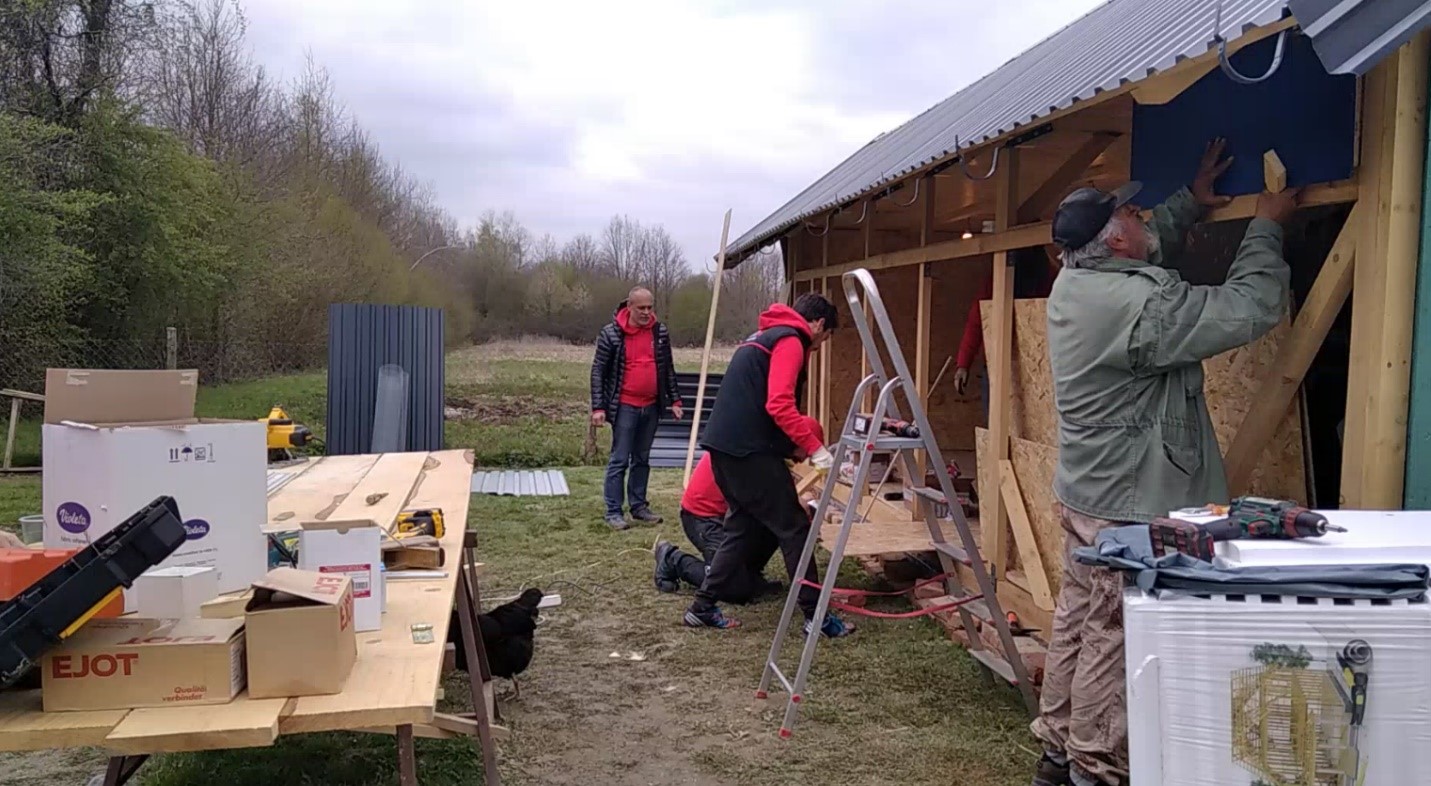 "Our goal is not to get people back to what they had before the earthquake. What they had was not good enough. With this project, we will do what the state needed to do a long time ago; we will show the people how it can be when people unite around the idea that dignified life of every person is a priority, "said Pero from Zamah Foundation on our way to Majske Poljane, where, as he added, the real Hilton chicken coop is being built.
After the earthquake, Mira was left alone. On December 29th  the roof of the house collapsed on her mother. She passed away in a hospital a few weeks after. Mira's son died 6 years ago. Her life is filled with tragedies, but you would never be able to read that from the infectious smile with which she greeted us.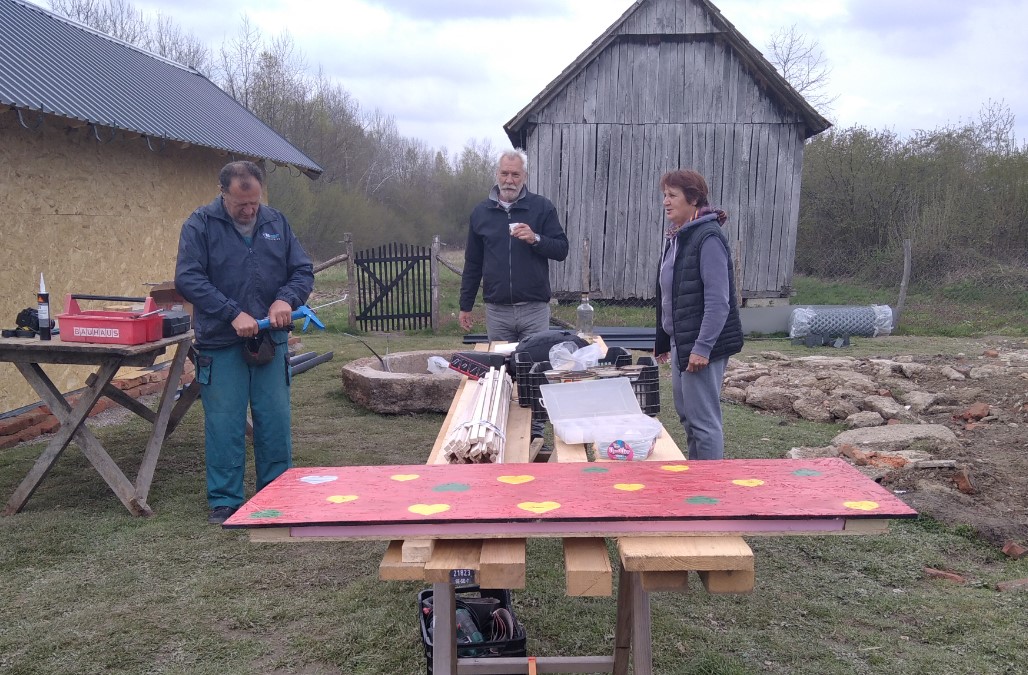 Pero didn't even get to park, and she already announced that she was making us coffee. In the yard, we found colleagues from the Dobro Dobrim association and volunteers from the H1 communications company, focused on their work. The boys were putting up thermal isolation, and Senad, a war veteran of strikingly serious demeanor, was drawing hearts on the windows he would soon be installing. "We need to bring a little color and joy to the chickens, they're stressed," he commented as if trying to justify himself by noticing me. His war comrade Radovan just smiled.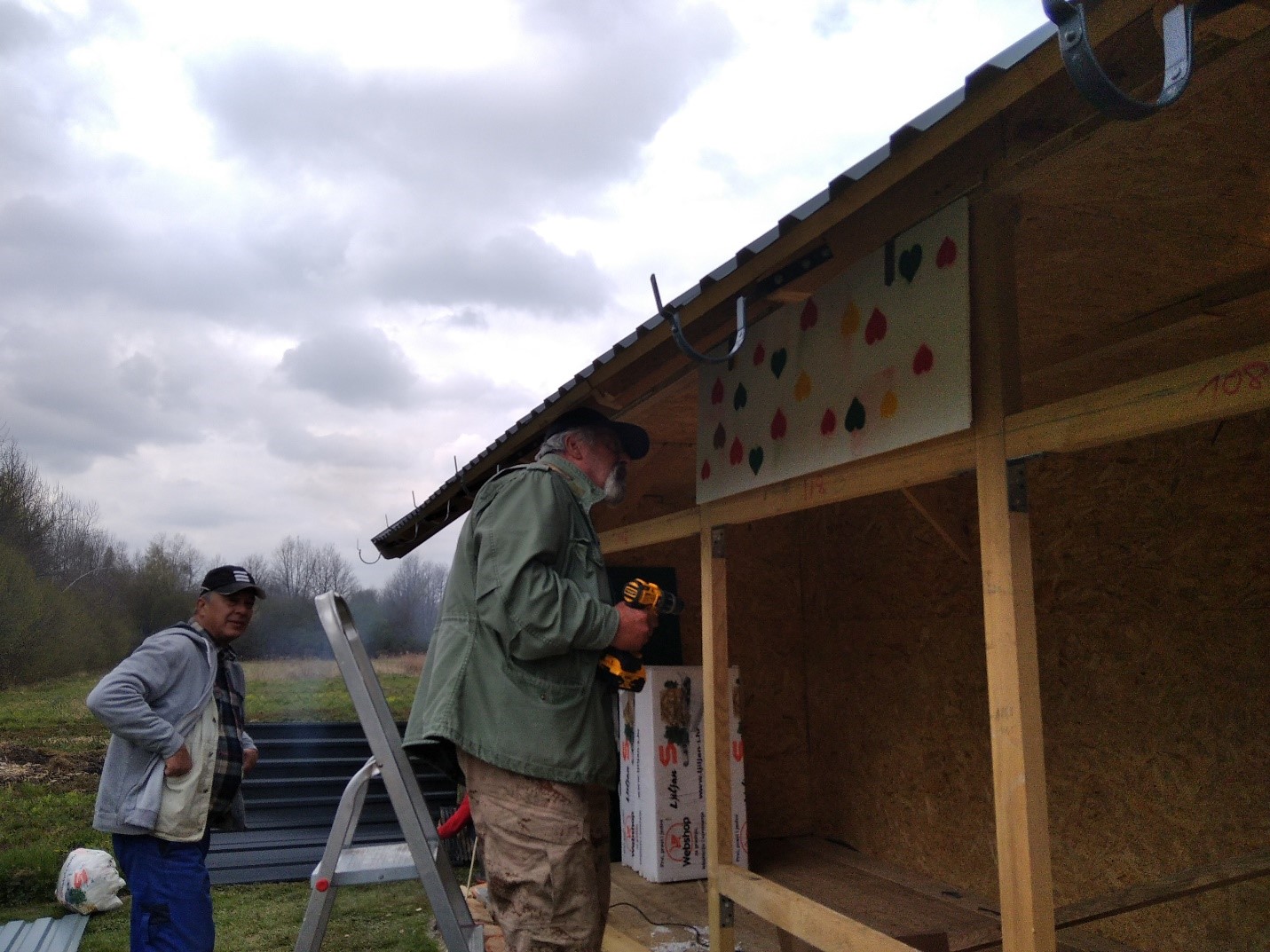 "I really don't know what I would do if it weren't for the two of them," Mira said to me when she brought coffee and continued: "They came right the first day after the earthquake, listed everything that has to be don have been coming back and checking up on me regularly ever since. As my mother is no longer alive, it means a lot to me, especially now that they started working. When a person is on her own, she has no will to do anything. I don't have any motivation to do thing for myself, but with them around… They said they like donuts, so I'm already preparing another round, with less sugar than last one. I kneaded and baked bread this morning, they love it too. They prepare lunch, that's how we arranged the chores. "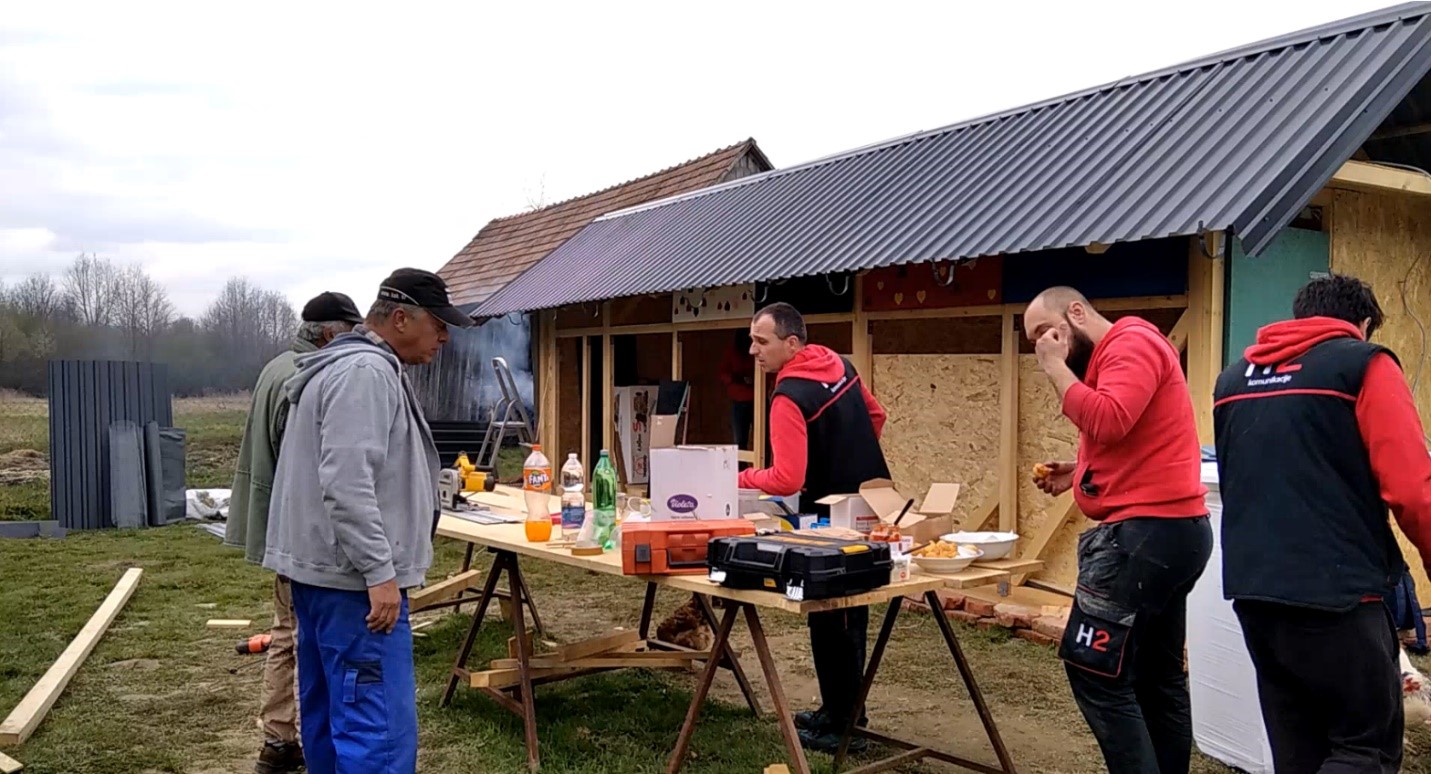 I looked around searching for the house where, I guessed, Mira was ordinating her kitchen spells, but I found nothing.
"Oh sweetheart… there is no house. It was completely destroyed, recently the guys cleared it up… But I got a stove. It didn't have a back side so I put the foil on and it works! I can bake bread and vegetables in it without any problems. That's more than enough for me! ", she explained and hurried to the corner of the yard to check how the donuts were progressing.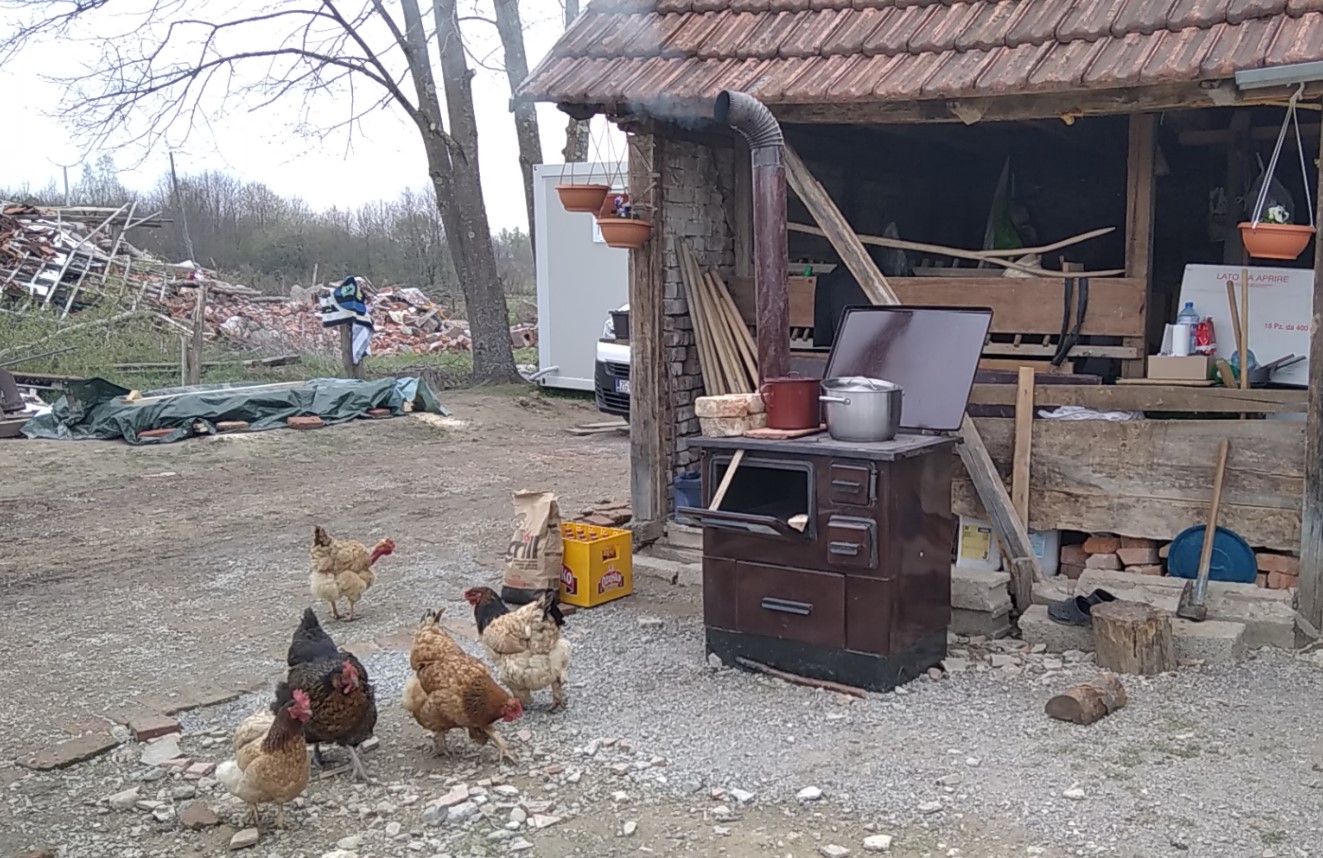 The Hilton chicken coop was nearing completion, and the landlady was pleased. With the house, which should arrive from donors from Turkey in a few weeks through the Dobro Dobrim association, Mira will no longer have to sleep in a container. Lack of space is her biggest problem. But she takes it step by step, a day at a time.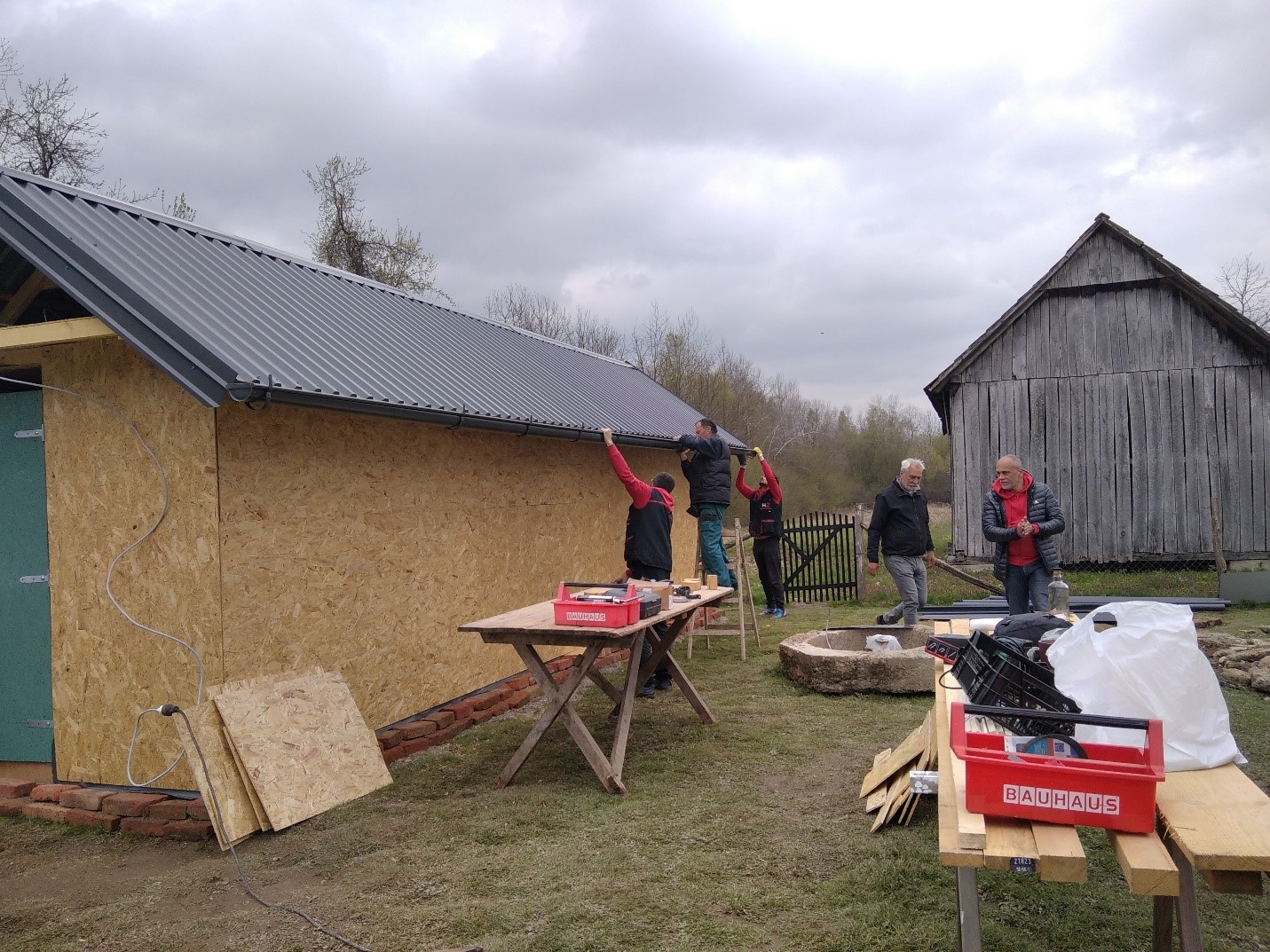 "If it weren't for you, I would immediately pack my bags and leave. Nothing keeps me here anymore. But as time goes on, I have more and more reasons to stay. I don't think I'm alone anymore, "she told me as we prepared to return to Zagreb.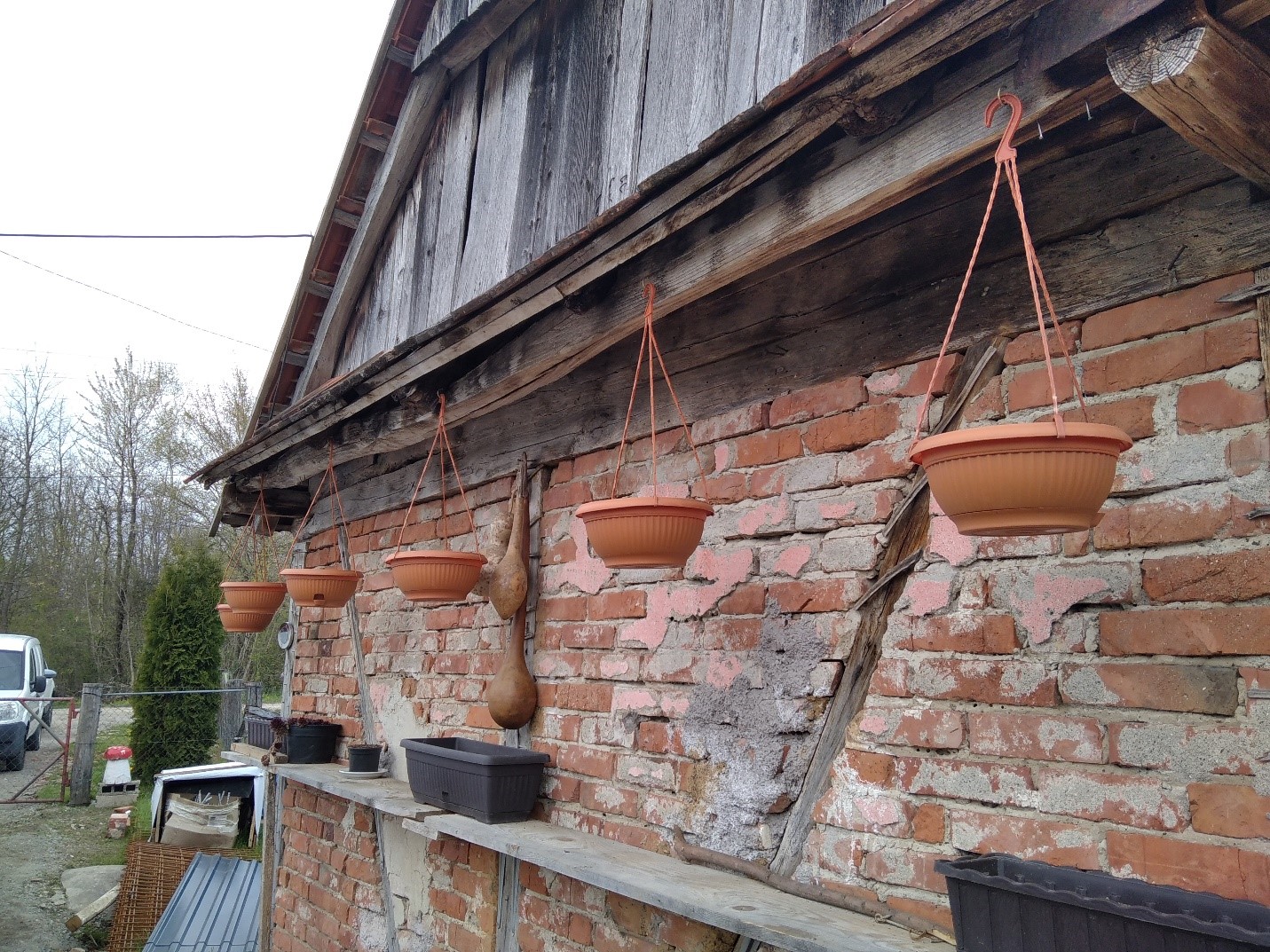 Mira set up planters all over her estate. With warmer weather, she will plant flowers. Doing that she will, first of all, have something to do because, as she says, the worst thing is to stop and think. She will also soon have something beautiful to look at, with chickens housed in their Hilton.