Author: Julia Lemmon
The SOLIDARNA Foundation, the associations RODA – Parents in Action, CESI and CROSOL – the platform for international civil solidarity of Croatia organized a solidarity protest rally on July 4 in Zagreb's Zrinjevac Park in response to the annulment of the Roe v. Wade verdict.
In a decision dated June 24, 2022, by a majority vote (5:4), the US Supreme Court overturned the historic ruling in the case of Roe v. Wade from 1973, which legalized abortion at the federal level. A protest rally called "Women's Independence Day", symbolically organized on the American "Independence Day" was meant to affirm autonomy of women's bodies and choices as a core element of democracy and to showcase solidarity between women in Croatia and the millions of women in America that lost the fundamental right to a federally protected abortion and the right to privacy in such healthcare decisions.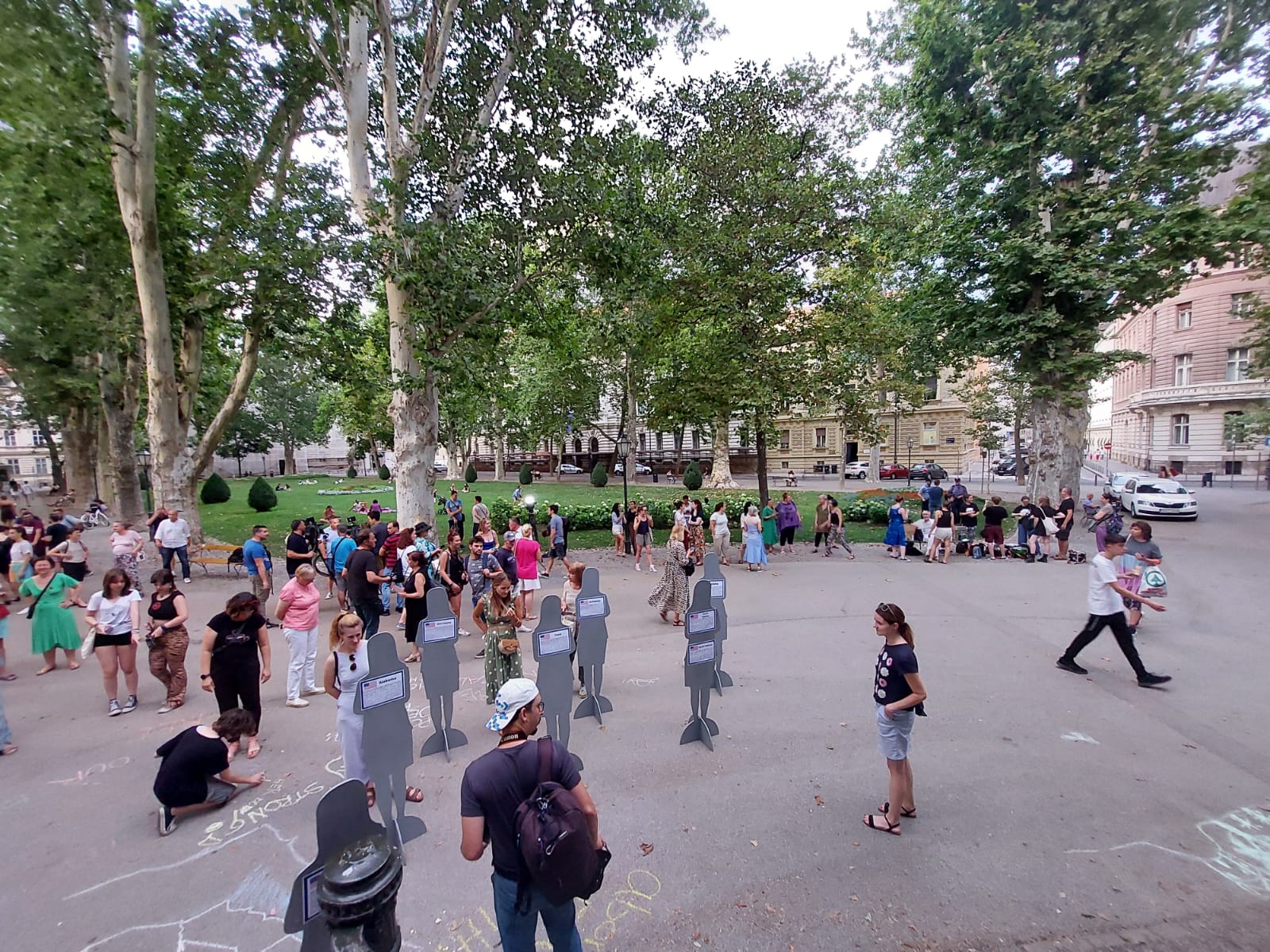 The solidarity rally started with a short presentation by Karla Pudar, the program coordinator of the SOLIDARNA Foundation, and me, followed by a reading of all the states in the U.S. that have enacted trigger laws on abortion bans that went into effect either immediately, upon the state's written approval, or within 30 days of Roe v. Wade being overturned. There were gray life-size cutouts of women detailing each state's trigger bans written in Croatian and English on signs plastered to the front and back, providing information to those at the rally about how severe these bans can be and are. The rest of the rally was accompanied by a playlist of powerful American songs about female empowerment – from You Don't Own Me by Leslie Gore to No Woman No Cry by Bob Marley, Survivor by Destiny's Child, and Fighter by Christina Aguilera – as the crowd walked around, read the information, and wrote messages of solidarity on the ground in chalk.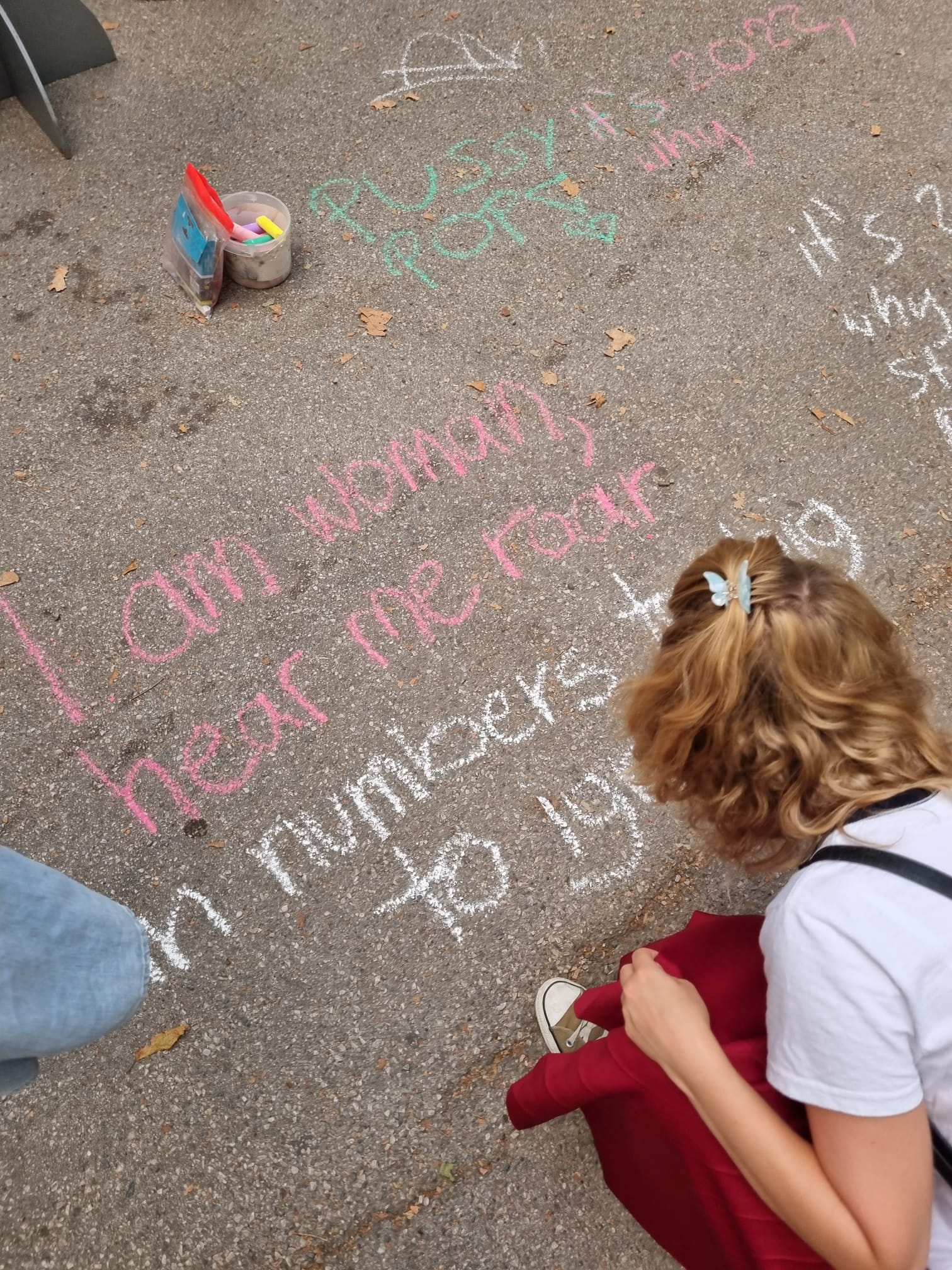 It was a beautiful event that sparked a lot of curiosity from nearby community members, particularly younger women and individuals who showed interest in learning about social movements that affect them. Many of them asked questions about how this reversal in rights could have occurred. As an American, I was personally asked to explain the political system of the U.S. and how the right to abortions could be guaranteed in the future.
I was in Zagreb when the decision was made to overturn Roe v. Wade. I immediately texted my mother (half joking and half not joking) to tell her I will not be returning to the United States until they give me my rights back. Simply put, this decision to overturn Roe v. Wade is a dangerous one, both for the global world and for the physical health, safety, and wellbeing of those who have the ability to give birth in the United States. Banning abortion does not stop abortions; it only forces individuals to get 'back-alley' and unsafe abortions that put them at huge risk of complications. Banning abortion jeopardizes the financial security of minority and low income communities. I feel compelled to believe that no one should ever be able to tell another individual what they can and cannot do or what they can and cannot have access to when concerning their own body and bodily autonomy.
Overturning Roe v. Wade will have global consequences
The government is there to protect and serve their citizens, but banning a constitutional right to an abortion at the federal level is not the protection and service of the communities that was sold to American citizens. In fact, the decision to overturn Roe v. Wade came days after the Supreme Court of the United States also ruled on another case surrounding gun rights— their ruling allowing for the expansion of gun rights (case name New York State Rifle and Pistol Association v. Bruen). Comparing these two decisions side-by-side, it became clear that guns have more constitutional rights than women have for their own bodily autonomy.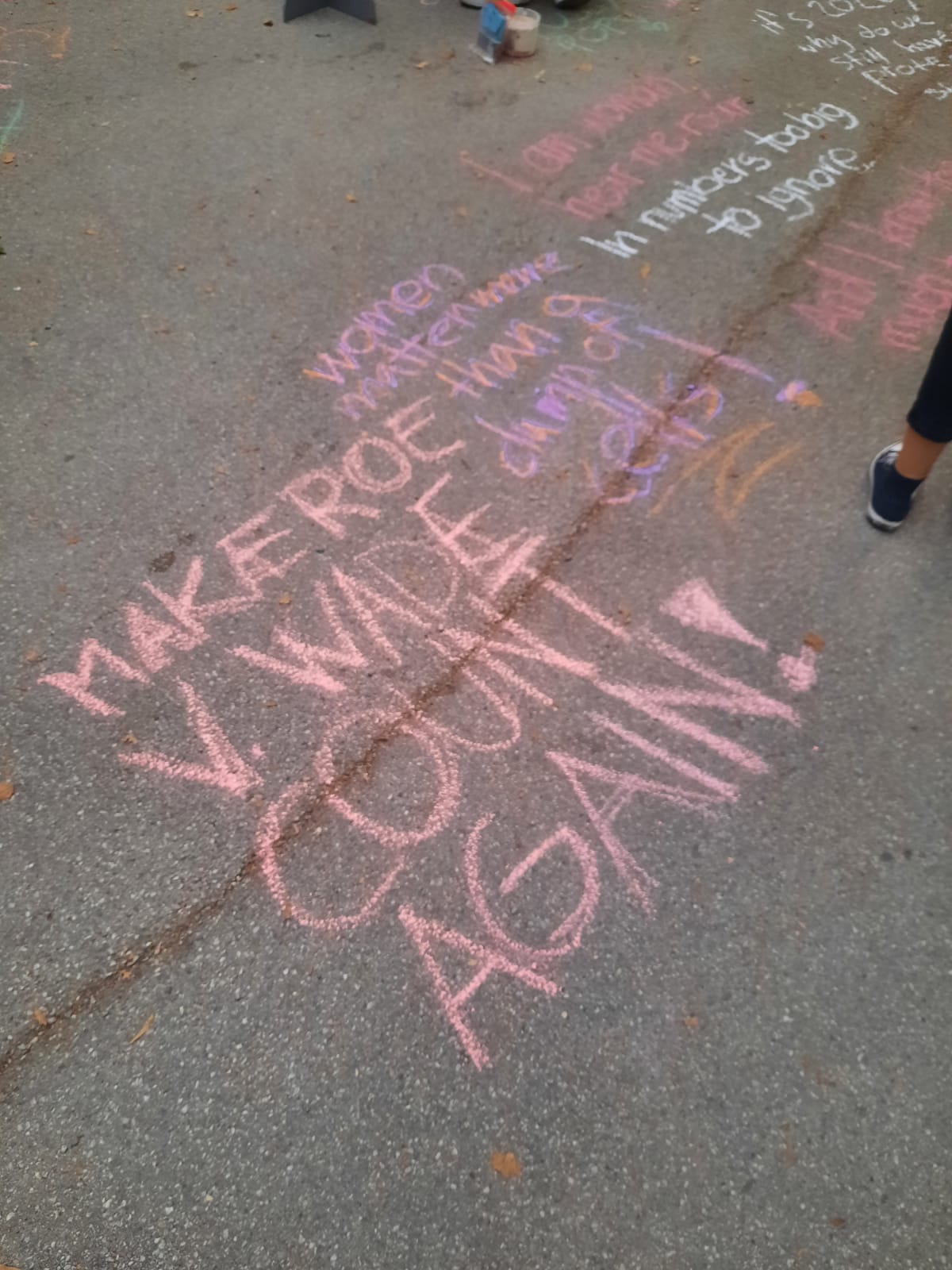 Because of the United States' current position in the global world, their decision to reverse this 50-year precedent will undoubtedly embolden other parts of the world to attempt to do the same, especially within young democracies and developing nations around the world. The overturning of Roe could be seen as a "social license to ban," further eroding access to abortion across the globe and fueling anti-abortion and anti-women's rights protests, movements, political agendas, and popular sentiments
Implementation of abortion laws are at least somewhat, if not heavily, influenced by social norms and, with the US retreating on their stance of Roe v Wade, it could signal to the rest of the world that abortion rights are not a part of human rights. Because of the influence the US has on the global political sphere and with how much foreign aid they send for developmental causes across the globe, backlash against women's human rights and/or access to abortion healthcare may rise in less developed countries, where governments grapple with healthcare service provisions.
Women's rights are human rights
According to a poll done by Quinnipiac University, 62% of Americans did not want Roe overturned, but the decision was made anyways by officials in the federal government who are not elected by the people. As an American, it was devastating news for me to hear, even though I reside in two states that have committed themselves to expanding abortion access within their territory.
I was overwhelmed with the amount of support I saw, no matter how big or small, at this rally in a place that is halfway across the world from where the decision of Roe versus Wade was made. This decision was deeply personal to me as the precedent was ruled constitutional under the 14th amendment which allowed citizens to have the right to privacy. This right was also used to legalize interracial marriages, same-sex relations, and access to contraception. As someone who has a medical condition that requires conception, the overturning of Roe versus Wade coupled with Supreme Court Justice Clarence Thomas saying that the court should reconsider all of its "substantive due process precedents," including the ones that protect the rights I just mentioned, (Griswold versus Connecticut, Lawrence versus Texas, Obergefell versus Hodges) feels like an attack against my health and needs as well as millions of other Americans'  health, wellbeing, happiness, and needs. To see that there is support for us globally struck an emotional chord within me and emboldened my opinions as well as drive to continue advocacy for such issues and for all of those feeling like they are not justly and rightly being represented and considered within America.
Abortion is healthcare. Reproductive justice is justice. Reproductive rights are women's rights. Women's rights are human rights.
Julia Lemmon, about herself:
I am an American student entering my last year of undergraduate studies at Loyola Marymount University in Los Angeles, California, majoring in International Relations and double minoring in Urban Studies and Business Administration. I have always had a passion for social justice and live by the mantra that I want to give back to the world that gave so much to me. The pro-choice versus pro-life argument has always been a passion of mine (for multiple reasons), but it has become more personal ever since the overturning of Roe v Wade occurred. There has been mention of possibly revisiting the previously ruled constitutional right to contraceptives which personally threatens my health as I am a woman who has PCOS, a medical health condition that often times requires access to birth control in order to mitigate the symptoms.